Our Newest DVD to Share with Those You Love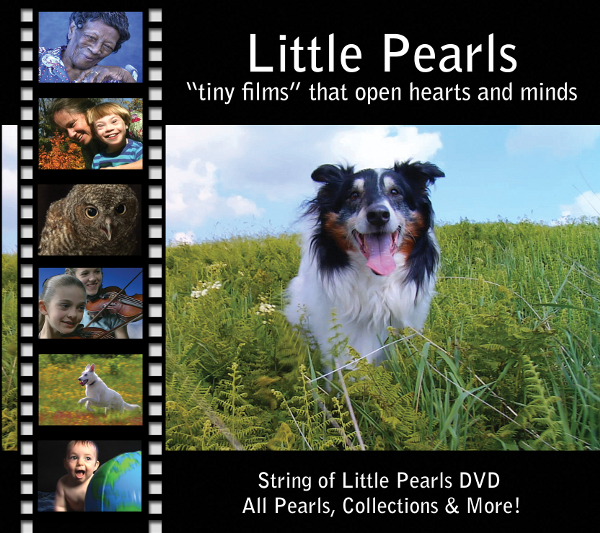 Our 2011-2012 DVD includes all of our work, from a 10 second introduction to a 13 minute sampler:
all 17 of our 30-90 second Little Pearls, including eight Dog Pearls

several collections, including samplers and mini-documentaries

five continuous loops that are geared for use with different audiences, from young children to dog lovers to people who wish to feel more heart-centered.
This DVD is meant to be shared with people you love and those you think may benefit from any part of it.  Our Creative Commons license allows you to share Little Pearls freely, including presentations for groups or classes and all kinds of events.  You can share any individual Pearl, loop or collection that fits what you hope to convey.  And they make GREAT gifts!
You can order DVDs by calling 828-658-9097, or order online or by check via our Contribute Now page.  Suggested donations are listed below.
In the Asheville, NC area, you can also pick DVDs up from our friends at any of these locations.  Call first to be sure they are available, as this listing is being updated soon:
North:
Weaverville Pet Pantry  One Merrimon Avenue, downtown Weaverville, 828-484-9247
Note: we're looking for a new north Asheville location, since our wonderful Accent on Books has closed.
South: 
Wild Birds Unlimited of Asheville In Gerber Village at 10 Crispin Court, Asheville, NC 28803, 828-687-9433
East: 
White Horse Black Mountain  105C Montreat Road, downtown Black Mountain, 828-669-0816
West: 
West Village Market & Deli  771 Haywood Road, West Asheville, 828-225-4949
Welcome Wellness, 667 Brevard Road (near REACH Animal Hospital, blue sign), 828-667-4060
Here are the suggested donation amounts, and shipping if needed:
1 for $15 – plus $2.50 shipping
2 for $25 – plus $3 shipping
3 for $35 – plus $3.50 shipping
4 for $45 – plus $4 shipping
5 for $50 – plus $5 shipping
More than 5 for $10 each, plus shipping to be determined