Sharing Little Pearls With The World
Distribution and Uses
(at least, the ones we know about!)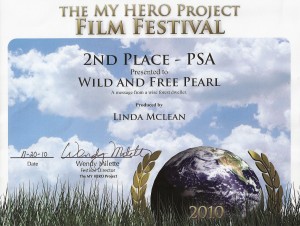 Television:
• WLOS-TV – Asheville, NC: aired initially in paid and donated spots, later as PSAs; Charlotte, NC; Cleveland, Ohio; public access stations in upstate New York and Asheville; Asheville cable Channel 10 as part of a twice-daily feature program
• ABC – Channel 7 in New York City: "Child to Child" PSA after September 11
• BBC in England: "Farmer to Farmer"– for farmers quarantined on their farms in 2001 by foot-and-mouth disease in livestock, and for the general public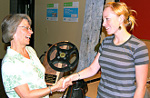 The Internet:
• Little Pearls are streamed on YouTube – greatlittlepearls, Vimeo, Green TV, the MY HERO Short Film Festival – more soon!
• "After the Storm" in Pass Along Concepts series "With Forgiveness", October 2006
• Active grassroots sharing, encouraged by our Creative Commons copyright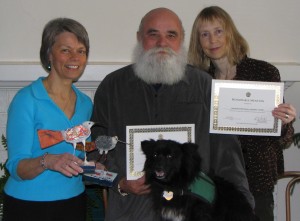 Public Screenings (individual Pearls or the whole sampler):
• Asheville International Children's Film Festival 2009 – 2011: gala, screenings
• Several Pearls in Jubilee! Singers concert and at Jubilee! celebrations 2009 – 2011
• "Wild and Free: a Screech Owl Named Pinkey" won 2nd place in the PSA category in the MY HERO Film Festival in Los Angeles in November 2010. The Pearl and compilation were in the Asheville FF, Nov. 2007 and at Little Pearls event May 2008. The compilation won the Western North Carolina Achievement Award 2008 in the 14th annual Twin Rivers Media Festival, May 2008. Also in Lumen Eclipse Le:60 FF in Boston, fall 2008.
• "After the Storm" in the Asheville FF November 2006; the reworked compilation in the Hazel Wolf Environmental FF in Seattle, March 2007 and in KIDS FIRST! It was one of four films in competition nationally for the KIDS FIRST! Best 2007 Award nomination as Best Indie Short Short Age 12-18, Oct. 2007 in Los Angeles; Wild and Scenic Environmental Film Festival in northern California and at Kat Williams concert, Asheville, NC, Jan. 2008
• "Dr. Willie" in MY HERO 2006 Short FF awards night in Los Angeles, Dec. 2006 (both Dr. Willie and his Pearl won awards!)
• "After the Storm" in Italy for an event on global warming (with Italian subtitles!) Nov. 2006
• Opening night gala of the first Asheville Film Festival, November 2003
• Events at Blue Ridge Motion Pictures and Diana Wortham Theatre in Asheville – spring 2003, fall 2004
• "KIDS FIRST" FF in Santa Fe and in their museum programs around the country; through them, in the spring 2005 "Peace Jam" in SW United States and in the Texas "Go Wild – Read!" 2005 summer program in public libraries
• Media that Matters conferences – Vancouver Island, British Columbia in 2003, 2004, 2006, 2007, 2009
• Open Cinema in Victoria, BC in 2003
• Church services in Asheville, Western NC, Oregon and Toronto, Canada
• Public gatherings/conferences in Asheville, Santa Fe, New York City, upstate New York, Canada, Germany, Japan and more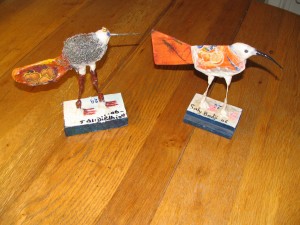 Educational Settings:
• Colleges/universities, including UNC-Greensboro, Warren Wilson, Ithaca College, UNC-Charlotte and more
• Classrooms and assemblies for children at all levels, from pre-school to high school, in Western NC and in many schools across the US and Canada
Other:
• "Farmer to Farmer" and its mini-doc were shown in English pubs and churches
• Group meetings, workshops, counselors' offices, mediation centers across North America
• Asheville Pizza's movie theater
• At least three thousand individuals, sharing samplers with family, friends, neighbors, colleagues
• Distribution of "After the Storm" to regional and national media, policy makers, opinion shapers
• "Child to Child" Pearl and mini-documentary were used by the American Red Cross for volunteers coming into New York City after September 11, 2001
Wish List for More Venues:
• Mobile devices; cable and broadcast stations at all levels, via sponsorships; with movies in theaters and on airplanes
• More film festivals and online streaming sites, national and international
• Broader grassroots distribution via DVD and viral networking