Dr. Willie Awards
"Dr. Willie" and Little Pearls Win Awards in Hollywood
E-mails from Clyde (AKA "dirt") – since Willie's 8-05 webpage creation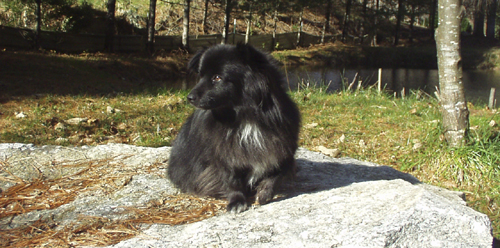 "Dr. Willie" and Little Pearls Win Film Festival Awards in Hollywood
ASHEVILLE, NC – March 14, 2007
A local pet therapy dog is now an award-winning film star!
"Willie was just an ordinary dog" – or was he?  Picked from his litter in an animal shelter, Willie may have seemed ordinary, but a near-death experience revealed his hidden gifts.  Willie's remarkable "leash holder" Clyde Hollifield helped Willie recover from his severe injuries and set him on a path of service as a certified pet therapy dog.
"Dr. Willie" became the star of a 30 second Little Pearl while working with ArtSpace Charter School children in a "read to the dog" program.  Little Pearls is a non-profit organization that creates and distributes inspiring, thought-provoking "tiny films" for use in many settings.
Dr. Willie's Little Pearl is a favorite – viewers laugh with delight at the surprise ending.
Last December, both Dr. Willie and his Little Pearl won awards in the MY HERO Short Film Festival 2006 in Los Angeles. This festival celebrates heroes in short film. Willie himself won a Special Hero Award and his Little Pearl received an Honorable Mention in the professional category. For more information on MY HERO, see myhero.com/myhero/go/filmfestival/winners2006.asp
Willie's person Clyde lives in the country near Asheville, NC and is a gifted storyteller and inventor.  He has highly-developed intuitive skills in rehabilitating animals, gleaned through 25 years of working with raptors such as hawks and owls.  His creativity and patience were critical after Willie was hit by a truck and sustained extensive, permanent injuries.
Willie's puppy energy receded after his accident and rehab, making him a calmer dog. Clyde's wife Adrienne realized that Willie's own experiences might help him be an empathetic therapy dog.  Willie and Clyde went through the long training to get certified, and "Dr. Willie" was born. He especially loves working with children, though he has also worked in hospital settings.
Dr. Willie is a determined little dog whose excitement shows in his puffed-out chest and vigorous bouncing when Clyde brings out his pet therapy vest.  Dr. Willie is now officially retired after 28 dog years as a pet therapist, due to the demands of this work on his injured body.  He is, however, still available for private sessions at his home office.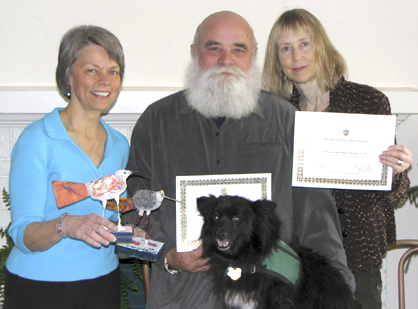 A note about the statues pictured below: Instead of traditional statuettes, the awards in this MY HERO festival were made by the subject of the 2005 winning film: Mamadou Diedhiou from Senegal. Diedhiou is a "bird maker" who creates one-of-a-kind birds from recycled objects.  Little Pearls Board member Tim Arem, already in Los Angeles, accepted the awards for Dr. Willie and Little Pearls.