Dog Pearls
Background and funding information on the Dog Pearls is at
DOG PEARLS | OUR DOG STARS | DO(G)NATIONS
Dog Pearls celebrate the wisdom and love of dogs. They are meant to encourage adoptions; a deeper connection between humans and animals; and a sense of what we have in common with companion animals in so many life experiences. These Dog Pearls are about what dogs teach us, in terms of being human, as much as they are about dogs themselves.

We filmed 27 dogs plus dog park "extras" in multiple locations in the summer and fall of 2008.  We have several hours' worth of great raw HD footage and are eager to create more these "tiny films"!  See photos and bios of OUR DOG STARS 
Your DO(G)NATIONS help us create these Pearls! We can post your listings and dog photos on linked pages at any of the giving levels. You, your dog, your family, your business, etc. can JOIN OUR PACK!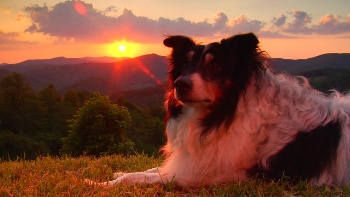 Overview:
All Little Pearls capture the essence of those on camera, yet they speak to the universal.   These dogs represent ALL dogs, and by extension, all sentient beings, including humans.  They are spiritual in the broadest sense.
The painful yet spiritually rich experience of losing Katie, a much-loved family dog, has evolved into a series of Little Pearls that celebrate the wisdom and love of dogs.
Because dogs and other companion animals can enrich our lives beyond measure, we hope these Dog Pearls encourage you to bring them into your heart and home whenever you can. Dogs can be our wise and gentle guides for living, loving and dying with grace, helping our hearts break open to the power of Love.
We also hope these Pearls inspire you to be as open as possible to intuitive guidance and serendipity for bringing animals into your life.  The guidance is always there, when we listen.
Any animal organization anywhere can freely use these Pearls in their own programs to promote adoptions.  Rescued animals and those adopted from shelters and foster programs are especially grateful for the chance to love and be loved, and YOU will be grateful, too!
The story behind these Pearls:
On March 12, 2008, Little Pearls Executive/Creative Director Linda and her family had to send their older dog Katie on her journey to dog heaven.
Four days later, listening to Irish pipes in a song that went straight to her heart, Linda had a vision of Katie, running up a green mountain ridgeline in complete freedom and joy.
Through streaming tears, Linda realized that Katie's best friend Mitch, still a puppy at heart at age 12, could serve as the physical stand-in for Katie (and for all dogs who have run and bounced into Spirit) in a new Little Pearl.  The initial idea for these Dog Pearls was born.
This original vision evolved over time, as Mitch slowly fell in love with his new sidekick Gracie, a puppy who serendipitously appeared soon after Katie died.  Katie and Gracie shared several remarkably similar traits.  Katie's presence remained strong, offering a guiding paw as her family learned to go on without her and as Gracie learned her way around.
Dogs know all about Love. They do not seem to fear death, even when they have to leave loved ones behind.  Animals instinctively know that death is a natural part of life.
Dogs can show a way to love that we humans often find difficult: feeling all the emotions fully and moving through them, instead of getting stuck and closing down our hearts.  Animals seem to know about letting go when it's time, and also about welcoming someone new into their lives and hearts, even, sometimes, in the midst of grief.
Here are some Dog Pearl Dreams, with working titles, as they are unfolding now.  Most will be spoken in "first dog" from the perspective of the dogs themselves:
Dog Dog: If My Dog Loves Your Dog…

We hope to gain permission from Dr. Bernard LaFayette to pair his catchy, playful civil rights song with footage of our diverse Dog Stars. Dogs play with each other without regard to color or any other differences.  That's something we humans can emulate!

So Many Dogs, So Little Time

Instead of resisting the fact that companion animals have shorter lives than we do, our Dog Stars want us to embrace the gifts of loving many animals and be open to bringing new animals into our hearts and homes.

Let's Go Out!

Have we got footage for you of dogs on trails in the Blue Ridge Mountains! They want us to enjoy the outdoors WITH them.  Dogs nudge us to get outside to exercise and play – don't most of us need that?

Be Patient with Me When I Am Old

Our older Dog Stars want us to love them for who they are, with all their frailties that can be so frustrating and sad as they age.

We Love Our Buddies

Most dogs thrive with another dog in the family pack.  Just watch how much they love to play together!

What About Me?

A wonderful animal organization in the Asheville area has talked about a Pearl featuring one of their hard-to-adopt animals. The story of one can benefit all, if told with power and heart.  This could be about cats, dogs or other companion animals.
Many really good dogs are waiting to be stars in new Pearls.  Please Do(g)nate Now!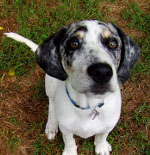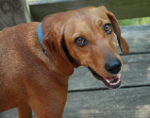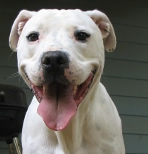 A bit of background on So Many Dogs, So Little Time:
When Katie was sick and Linda was walking Mitch alone, a man crossed the street to get a closer look at this beautiful old dog.  In talking about Katie's illness, Linda said she just wished animals could live longer.
We've all heard – and may have said ourselves – that the most difficult thing about loving dogs is that they don't live as long as we do.  Some people never welcome another dog into their lives because it hurts too much to lose them.  This stranger said something very different:  that HE couldn't live long enough to have all the dogs he'd love to have.
As humans, with our much longer life spans, we are blessed with the opportunity to love many dogs.  This is true for cats and many other companion animals, too.
Changes the perspective, doesn't it?
There are so many great animals longing for homes where they can give love and be loved.  We hope to encourage more adoptions, as many as any one of us can welcome in our own lifetime.   Let your heart be broken open, to even MORE LOVE!
| | | |
| --- | --- | --- |
| | | |
Our Dog Pearl mountaintop "shoot" was June 19, 2008 and there are many more photos than you see here.  Pamela Stringer, our Little Pearls intern, took candid shots of the five dogs (older guys Mitch & Tucker, young adult Lucy, puppies Gracie & Lola) and seven people involved in the shoot on a beautiful day.  Pamela captured the exquisite beauty of the Upper Laurel Community in Madison County, on the North Carolina/Tennessee state line.  This shoot came together quickly – what fun!
Don't be dismayed at good-byes.
A farewell is necessary before you can meet again.
And meeting again, after moments or lifetimes, is certain for those who are friends.
                    ~ Richard Bach from Illusions: The Adventures of a Reluctant Messiah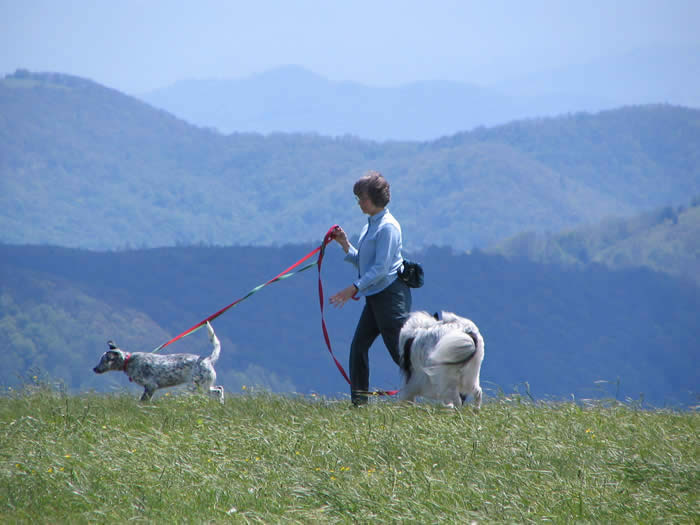 All photos of Katie, Mitch and Gracie on this page are courtesy of Jim Stokoe