What's New: Archives
What's New! – by Linda McLean
(from our pre-WordPress days)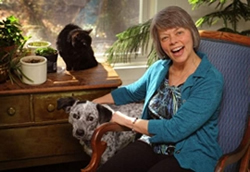 Photo by John Fletcher, Asheville Citizen-Times
January 9, 2012
New Website Coming Soon!
At the urging of Julie Parker, our original website designer and trusted advisor, we are moving to a WordPress site soon.  There is a LOT of content on this current site to update and re-arrange.  Stay tuned – it will be great!
Check out Julie's own website: Handwoven Webs
December 28, 2011
Just in time for End-of-Year Donations, We Have a Matching Challenge:  Hope for a Great New Year! 
Here's more on our new DVD: 
It includes all of our work, from a 10 second introduction to a 13 minute sampler: all 17 of our 30-90 second Little Pearls, including 8 Dog Pearls; several collections; and five continuous loops that are geared for use with different audiences, from young children to dog lovers to people who just need to feel connected.  See more below about locations and suggested donation amounts.
December 14, 2011
Our New DVDs, just in time for the Holidays!
You can order DVDs by calling me at 828-658-9097, or order online or by check via our Contribute Now page. Suggested donations are listed in the Nov. 27 post below.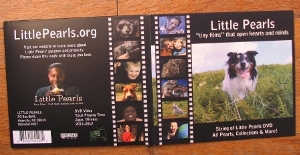 Outside cover of our recycled paperboard eco-wallets!
In the Asheville, NC area, you can pick DVDs up from the good people at any of these locations.  Call first to be sure they are available:
South: 
Pet Harmony, the pet store for rescued pets at Animal Compassion Network  803 Fairview Street, off Hendersonville Road, 828-274-3647
East: 
White Horse Black Mountain  105C Montreat Road, downtown Black Mountain, 828-669-0816
North: 
Weaverville Pet Pantry  One Merrimon Avenue, downtown Weaverville, 828-484-9247
Animal Hospital of North Asheville 1 Beaverdam Road, off Merrimon, 828-253-3393
West: 
West Village Market & Deli  771 Haywood Road, West Asheville, 828-225-4949
Welcome Wellness, 667 Brevard Road (south of the Farmer's Market, near REACH Animal Hospital, blue sign), 828-667-4060
November 27, 2011
Our NEW DVD is REAL, finally!
After many months of hard, creative work, our beautiful new DVD is here, ready to brighten your life and the lives of those you love!
This DVD, our first since 2003, includes all Pearls, all longer pieces and five loops for uses with different audiences.  It will make a GREAT holiday gift for yourself and for those you love.  Even the menu is beautiful!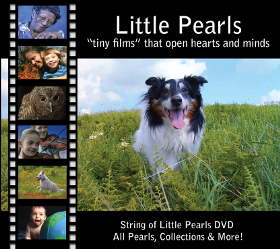 Here are the suggested donation amounts:
1 for $15 – plus $2.50 shipping
2 for $25 – plus $3 shipping
3 for $35 – plus $3.50 shipping
4 for $45 – plus $4 shipping
5 for $50 – plus $5 shipping
More than 5 for $10 each, plus shipping to be determined
You can either call me at 828-658-9097, or order online or by check via our Contribute Now page.
Winesday on Wednesday – last one November 30!
We will have our DVDs at our last Winesday on Wednesday event at The Wine Studio of Asheville on Wednesday, November 30, from 5-8 pm.  If you're in the area, come by and get your DVDs while enjoying great wines and a beautiful setting!
November 13, 2011
Our New DVD is HERE!
We are thrilled that our long-awaited DVD has arrived, and it is beautiful, inside and out!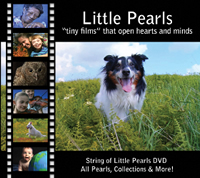 Winesday on Wednesday, all through November
These are great little events: taste 5 wines for $5, from 5-8 pm, at The Wine Studio of Asheville.  A portion of the proceeds will benefit Little Pearls, and we'll be there with bells on, and with our new DVDs!


November 3, 2011
Asheville International Children's Film Festival starts this Saturday morning with a Costume Pancake Breakfast that benefits Little Pearls!   Check out AICFF for more on this great festival.


Two More New Dog Pearls!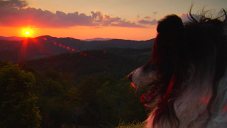 Anam Cara: Soul Friend (YouTube link only, as it does not have a webpage yet – please watch in HD)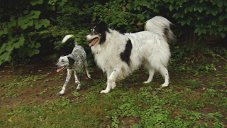 Even More Love (YouTube link only, as it does not have a webpage yet – please watch in HD)
Thank you to The Hop!
We had a sweet little fundraising event at The Hop on October 25 with Tim Arem of AICFF.   Thank you, Greg, Ashley and Tim!
October 24, 2011
Lots of News – No time to share….
We now have 4 new Dog Pearls total, the DVD is getting close to being done, and a bunch of small fundraising events are in the works.  However, a medical crisis with my husband has kept me from being able to manage everything with Little Pearls.  More soon!
September 19, 2011
New Dog Pearl #2: Do You Know Who You Are?
Check out our second new Dog Pearl: Do You Know Who You Are?  It is full of love, as older dogs pass down their wisdom to puppies, with a message for us humans, too.  Again, that little boxer from the dog park is too cute!  New webpage with more photos, coming soon.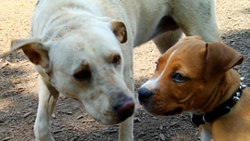 September 11 Anniversary
We were surprised at how many new views both of ourChild to Child videos received on our YouTube channel, around the time of the 10th anniversary of September 11.  Created with the authentic wisdom of children, way back in 2001, they are still moving:
Child to Child 30 second Pearl
Child to Child mini-documentary
September 4, 2011
New Dog Pearl: Dig into the Good Stuff!
Check out our new, playful Dog Pearl, called Dig into the Good Stuff!   The cutest brown-and-white boxer puppy you could imagine steals the show, and puppy Lola, shown below, is in it, too!  This Pearl will have its own webpage soon.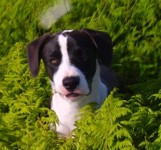 Music Rights are All Clear:  DVD, here we come!
We can finally start back on our new DVD sampler, with gracious support of all the musicians and composers who have given us their wonderful work.  We will soon have a Music Sponsors page up.
Thanks also to attorney Ben Scales, who helped us, pro bono, with the last difficult legal agreements.
Little Pearls for September 11
Right after 9-11-2001, when Little Pearls was still in its infancy, we created a 30 second Pearl and mini-documentary.  They are still potent and poignant:
Child to Child: Heart to Heart Pearl
Child to Child: Heart to Heart Mini-Documentary
August 23, 2011
New Version of Great Katie's Pearl!
Great Katie Latimore was an amazing woman.  Here isGreat Katie's story
Hers was the very first Little Pearl, created in 2000.  Because we could not locate Van Morrison to renew rights to use his musical performance, Universal Music granted us permission to re-record the audio and re-mix with the original video.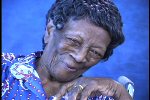 Kat Williams does the vocals and Daniel Barber is on piano.  This is more intimate, and I think even better, than the original. Check it out! Great Katie (2011 new audio)

July 21, 2011
New Dog Pearls, Coming Soon!


We hope to create up to four new Dog Pearls for the new DVD sampler while we move through music rights clearing.
Here are the working titles:
• Dig Into the Good Stuff! ~ Several dogs, like pit bull Kane here and a cute Boxer puppy, having way too much fun, finding treasures and surprises
• Pass It On! ~ Older dogs interacting with puppies, gently and nose-to-nose, seeming to be passing down wisdom about life
• Falling in Love Again ~ Old dog Mitch had a broken heart after losing his best friend, but puppy Gracie helped him open up to love again. Based on the voice-over we have, this one sounds like a country song ~ I wasn't expecting that!
• Anam Cara: Soul Friend ~ Mountaintop sunset footage of old Mitch, below, paired with Howard Hanger's beautiful song Anam Cara. We may have to record this audio.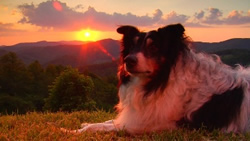 New Version of an Early Pearl!
Check out the new audio on Everything is a Miracle  Our friend Daniel Barber, who edited the original Pearl in 2001, has recreated the music for this exceedingly difficult Bach piece, so we can use this Pearl freely from now on, with no music restrictions.  It was re-edited by David Bourne of Bourne Media  I think it works very well!
See it directly on YouTube here: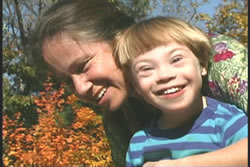 Good News on the DVD Sampler:
• We have finished updating music agreements on three of the earliest Little Pearls
• We have re-recorded the audio on Everything is a Miracle(see above link) and have permission to re-record audio for Great Katie, which Kat Williams and Daniel Barber will do next week
• Other older music is still in process – more soon!
June 8, 2011
May: Month of Letting Go
My family had to say goodbye to both our old animals in May: our almost 19 year old cat Molly and 15 year old dog Mitch, our first Dog Star.  The hospice care and letting go were difficult, yet in each case, the love lessons were deep and their passings were so peaceful.


We also lost another Dog Star in May.  Weazie, a rescued Yorkie with special needs, was filmed with the two other dogs in Marlisa Mills' family for the Dog Pearls.  May was a tough month….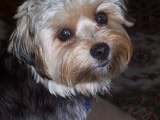 My friend Robin Thompson Duehring took a sunset image of Mitch, a lovely still from the HD Dog Pearls footage, and made it even more magical.  Check out her work on the link above or here: http://ladydragonfly.net/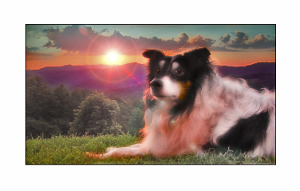 May 31, 2011
Update on our New DVD Sampler
Though our DVD sampler was to have been finished by June 1, we hit some huge snags in terms of music rights on the older Pearls.  It is taking a great deal of time and effort to clear.  Stay tuned!
This DVD is being funded, in part, by a Grassroots Arts Program Grant of the North Carolina Arts Council, a state agency, and the Asheville Area Arts Council.  We are MOST grateful for their support.



April 25, 2011
Finally, All Dog Pearls HD Footage is Logged!
The initial tedious process of logging hours of time-coded footage for Dog Pearls is finally done.  We have enough great footage for at least 10 more Dog Pearls and hope to create two more soon for the new DVD sampler.  Stay tuned!
New HD Upload for Spirit Dog on YouTube
We have uploaded an HD version of Spirit Dog to YouTube, as the original upload lost all its high-resolution options.  Check it out, "like" it and comment, please.  We had 1300+ views on the old one….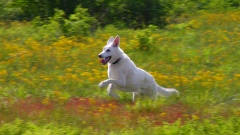 Blue Mountain Pizza raised $600 for Little Pearls!
Thank you again, Matt Danford and Blue Mountain Pizza, for supporting Little Pearls in your generous non-profit program in February and March.   We are thrilled!
March 11, 2011
Featured in Sunday Conversation Series in the Asheville Citizen-Times on March 6!
Thank you, Barbara Blake, for this GREAT article Little Pearls, big heart, and John Fletcher, for the photos!  The feedback has been wonderful!  (I wish the link could stay active forever, but it was only up a month)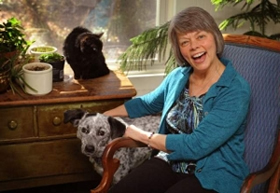 Photos by John Fletcher, Asheville Citizen-Times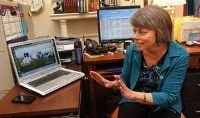 March 4, 2011
Blue Mountain Pizza Supports Little Pearls in March, too!
See February 4 links below for details on Blue Mountain Pizza's generous support of non-profits, including Little Pearls. More information is in our February 16 newsletter:Pizza, Dogs and Big Hearts!  All of March is good, and March 17 is the BIG day, so get to Blue Mountain!

We're Part of Windiefest on Saturday, March 26, 2011 in Jonesborough, Tennessee
W = women + Indie = independent! WindieFest celebrates Women independent artists, educators & entrepreneurs. Little Pearls will be on the Parlour Talk Tour, with sessions beginning at noon, 1:00pm and 2:00 pm at the Eureka Hotel.  For more info, call 423-426-6766.
February 4, 2011
Blue Mountain Pizza Supports Little Pearls in February AND March!
Blue Mountain Pizza is a huge part of Weaverville, NC's community heart.  We are thrilled that they will feature us in their non-profit program in February and March.  BMP matches 100% (up to $500) of all donations at the register and on the third Thursday, they also donate 10% of that day's profit.  THANK YOU, Matt Danford!
We're in the top 15 Nationally in the Great Nonprofits 2011 Arts Appreciation Campaign!
See our ranking in Top-Rated Arts 2011 Nonprofits and also Our Reviews
Spotlight Pearl: Our Children Ask the World of UsKayla's Pearl is timely, given the Tucson shootings in which the world lost a great little girl named Christina.
January 19, 2011
Do you love and support our work?
Share your experience with us before January 31 & help us shine in the GreatNonprofits Arts Campaign: Write a Review
Here are our 2010 Reviews ~ pretty cool!
Grant for New DVD Sampler!
Our long-awaited DVD Sampler, to be completed Spring 2011, will be funded, in part, by a Grassroots Arts Program Grant of the North Carolina Arts Council, a state agency, and the Asheville Area Arts Council.



December 31, 2010 ~ Happy New Year to You All!
Great News for our New Year: 
12-28 e-newsletter
Check Out Our MY HERO award – nice!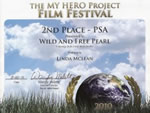 December 11, 2010
Become a New Sponsor!
Check out our two Sponsor pages: an updated one for2011 Sponsors with the new $100 sponsorship level, and one for Earlier Sponsors.
December 6, 2010
Unexpected & Unrestricted Anonymous Grant!
We received the most wonderful surprise recently: a $2,500 grant from an anonymous donor to promote kindness and compassion.  We can actually make new Pearls with this grant.  Such a gift and such a validation of our work ~ THANK YOU!
Grant for new DVD needs Matches ASAP!
We applied for two targeted grants for a long-overduecomplete String of Pearls DVD, making it much easier for you to see and share our work and helping us become financially sustainable.  One grant came through; the other did not.
We have raised the required match for the approved grant from several individual donors.  Now we need your help to raise the $1500 we did not receive from the other foundation, so we can proceed with this project: 
Donate Now
Online Sampler: 7 Pearls in 5 Minutes!
Check out our new online sampler, originally intended for potential sponsors ~ Enjoy!  7 Pearls in 5 Minutes!
New Sponsors are most welcome
We have a new Sponsor level of $100.  Please let us know if you'd like to join us:  Sponsors
November 18, 2010
Pinkey's Pearl wins award in LA!
Our little screech owl and his rehabber Clyde will be celebrated in the 2010 MY HERO Film Festival this Saturday in LA.  Check Pinkey's MY HERO page and click on "More Info" for the story.  Go, Pinkey!
Ultimate Ice Cream's Flavor of the Month benefits Little Pearls in November!
Check today's e-news for details.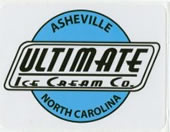 AICFF was wonderful!
The Asheville International Children's Festival just keeps getting better.  Can't wait till next year!
Matching Funds for New DVD Needed ASAP
We have high hopes for a grant for a new DVD sampler, which is long overdue.  This DVD will make it much easier for you to see and share our work and will help Little Pearls become financially sustainable.  Please contribute.
November 4, 2010
Ultimate Ice Cream's Flavor of the Month benefits Little Pearls in November!
Enjoy an exceptionally yummy hand-crafted Butterscotch ice cream this month and help Little Pearls, too!  Seetoday's newsletter for Asheville locations and times.
And come to AICFF, starting Nov. 5!
(links just below)
November 1, 2010
AICFF has begun!
Asheville International Children's Film Festival is now underway, with public screenings beginning this weekend and going through November 14.  The Gala that benefits Little Pearls is Friday, November 5.  Check out the newAICFF promo and a new article in the Asheville Citizen-Times.
October 5, 2010
Matching Funds for New DVD Needed ASAP!
We have applied for two grants to create a new DVD sampler with ALL our work on it, set into an easy-to-use menu.  This will make it much easier for you to see and share our work and will help Little Pearls become financially sustainable.
Matching funds are required for these grants:  Please Donate Now!
AICFF Tickets are on Sale Now
Asheville International Children's Film Festival, now in its second year, is coming up soon: November 1-14, 2010.  It's going to be great!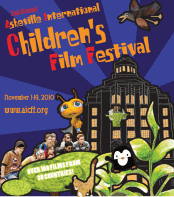 Please check out all the events, including the November 5 Gala that benefits Little Pearls.
Here is a link to the New AICFF Trailer – sweet!
The Cat of My Dreams in current WNC Woman
The story of Theo, special therapy cat for my mother before her death, is in October's animal issue of WNC Woman: The Cat of My Dreams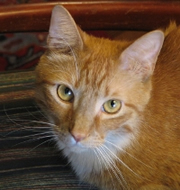 Screech Owl Pinkey returns; his Mini-doc goes live
Five years after his release, our owl star Pinkey returned recently for a brief visit.  What a relief to know he's still out there, making it on his own!
To celebrate, we've finally posted his 8 minute compilation on YouTube.  We hope to make a shorter version, too, with audio narration for kids.  As-is, the footage is SUPER – check out the slow motion of Pinkey and the hummingbird at the end! Wild and Free Compilation
September 8, 2010
Child to Child Mini-Documentary up on YouTube!
In 2001, children from Asheville sent poignant messages of love and support to the September 11 children of greater New York.
All 4th and 5th graders, these children spoke from their hearts, directly to the children who had suffered loss.
Their wisdom is remarkable.  We grownups could learn from them, given the hostility and ignorance around this tragic event today, nine years later.
Produced for NYC schools and Red Cross volunteers, theChild to Child 9-11 Mini-Documentary is online for the first time now.  This 4+ minute piece is related to the 30 second Child to Child Pearl
More about these children and the story behind this project, which came together quickly and with much serendipity, is at Child to Child.
August 27, 2010
After the Storm featured in E-news
Close to the fifth anniversary of Hurricane Katrina, a newsletter about Heart Work, featuring After the Storm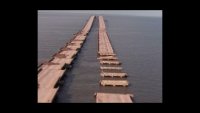 August 24, 2010
AICFF Tickets Go on Sale September 1!
Asheville International Children's Film Festival, now in its second year, is November 1-14, 2010.  Little Pearls is again proud to be the non-profit umbrella organization as this great young festival gets even greater!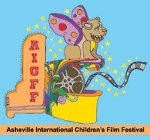 Feedback from YOU!
We're asking for YOUR input.  Do you have a favorite Little Pearl?   If so, which one(s) and why?
If you haven't seen many of our "tiny films", check them out here on YouTube.   Your input could be helpful for the direction we take.  Thank you!
Some Recent Input from Our Facebook Friends:
I love Little Pearls for the creative talent that goes into making them and the pleasure they give me.  I'm at the time of life when I cherish little things — don't need big, grand things.  Special moments, flowers, birds, children, dogs and other creatures, all pleasure me, and Little Pearls is full of those moments.  Try them — you'll be glad you did!   Marilyn G
I think they're timeless.   "After the Storm" could've been made yesterday and called "After the Spill."   "Farmer to Farmer" and "Child to Child"… there's so much loss going on today in just the same way.  Different particulars, same loss. …  Heloise Jones
In times like these, it's so important to keep the positive
messages flowing, and Little Pearls does that so beautifully.  Member contributions make a world of difference – THANKS to all those who have already started to contribute!  If each member contributed $20 – that would raise $5000 (from our Facebook Cause page).  Or better yet, imagine if each… member contributed $100 (or found a new member who could) – THAT would raise $25,000!!  Do you know what Linda & crew could do with THAT kind of budget??! I can imagine….   Dana G
Good medicine — these times are naturally full of grief, and even despair — Connecting with a PEARL is a way to "gift" ourselves with a moment of peace…and good medicine for healing. Thanks to all who are supporting this work.   Mary O
August 7, 2010
Vacation was Wonder-full!
Oregon was SUCH a great place to spend two weeks, after two years with no break.  Don't I look relaxed, here at Crater Lake?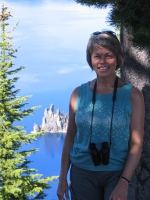 July 7, 2010
We're on Twitter, Finally…
… just dipping a toe into the world of Twitter, aslittlepearlsorg   Follow us and we'll follow you, though maybe not till after vacation, you know….
Amazing Amanda
Amanda's new video is up on Vimeo, this time with her singing.  It's not a Little Pearl, so we can take no credit, yet is quite moving and we're so pleased!  
Amazing Amanda
For more about Amanda, see Amanda's page.


Can Minds be Opened by First Opening Hearts?
Cartoonist David Cohen has a new cartoon called Long Ways Away that refers to the need for open minds.  You can see the text on the above link.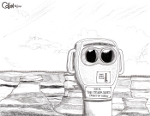 We call our Pearls "tiny films" that open hearts and minds and we believe that going through the heart CAN open a closed mind.  What do you think?
June 10, 2010
World of Clowning DVD
Tim Arem, founder of Asheville International Children's Film Festival, is offering Little Pearls $5 whenever one of our friends buys his $15 World of Clowning DVD for children!  Contact him at TboneRun@hotmail.com and tell him we sent you.
Alchemy of the Soul Concert
Three Little Pearls were featured in a great concert by the Jubilee! Singers on June 4 in Asheville.
Amanda's New Videos
Amanda Levesque and Daniel Barber are featured in a new video, about 10 years after Amanda's Pearl was made.  This time, Amanda is singing.  She is also in a recording from the June 4 concert.  Stay tuned for updates to Amanda's page and the Spotlight Pearl in our next newsletter.
May 5, 2010
Articles in WNC Woman
The May issue of WNC Woman has articles by three mothers who are central to the life of Little Pearls:
First Word by Julie Parker shares more about Charley-dog and the Dog Pearls.  Julie is our web goddess, mentor, friend and former Board Chair.
How Little Amanda Grows by Patty Levesque, our Board Chair.   Patty's daughter Amanda stars in the Reaching for the Stars Pearl.
Who Am I? by Penny Bond, our Board Secretary
North Carolina Week for the Animals
We are also included in this week's NC Week for the Animals about about halfway down on the calendar page, for our Dog and Animal Pearls.
Cat Pearls Coming!
Theo has had a full life in his first year, lighting up my 95 year old mother's life in her last five months, wrestling frequently with his dog sister Gracie, bringing sunshine to us all.  We have hilarious Flip video footage – stay tuned!

April 21, 2010
Spotlight Pearls
We have begun to spotlight a Pearl in each of our e-newsletters and to update its webpage at the same time. The first two are Great Katie and Special Gifts.
Goodbye, Charley…
One of our sweetest, most funny Dog Stars, filmed but not yet in a Pearl, has died unexpectedly.  Here he is as a WNC Woman cover dawg. We'll make you a star in a Dog Pearl, Charley, though you're already a star in our hearts.

Great Katie Latimore's Story
Barbara Blake, our friend at the Asheville Citizen-Times, wrote this lovely article that also features Great Katie's Pearl: Asheville poet Glenis Redmond remembers Great Katie's grace and life (link not working now)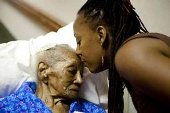 March 19, 2010
2010 Reviews for Great Nonprofits Campaign!
In our first-time participation in the national Arts Appreciation Campaign, we are thrilled to see what friends said about us: 
2010 Great Nonprofit Reviews!
February 2, 2010
Great Katie Latimore died today at age 109.
Keep shining your light and love on us – we love you!
Celebrating a Century of Living and Loving
January 29, 2010
This is the year we must become sustainable
We have always offered our "tiny films" to the world for free.  We have beautiful, potent content and would love to create more.  Little Pearls is volunteer-run.  We need new ideas, tools and resources for distribution and funding.  ALL ideas are welcome – it's time to get moving!
New Kinds of Pearls
We are considering new ways to make Little Pearls, including one that incorporates stills, and a series using Flip Video.  Stay tuned!
Our Other Websites (some just partially set up)
Please join, comment, donate, participate!
(Network for Good may require two clicks to work)

November 17, 2009
Little Pearls slows down for Life
On November 15, my very old mother died and then I
was flattened by an intense flu.  On top of four hand surgeries and major storm damage to our house (also home to Little Pearls' office), these events have put Little Pearls on the back burner, and we're now very low on funds.  Please help if you can: CONTRIBUTE NOW
We'll be back, better than ever, in the New Year!
Harley needs a home, again…
Our youngest Dog Star Harley is homeless again and in foster care.  He's now about 20 months old and is a great dog.  Harley Profile with Brother Wolf  Contact me orBrother Wolf Animal Rescue if you are interested.  Let's find this sweet boy a home he can count on!
October 29, 2009
The very first Asheville International Children's Film Festival is coming soon: November 2-8!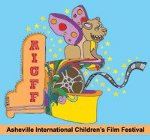 AICFF is the first and only children's film festival in North Carolina, and Little Pearls is its proud non-profit partner.
Check out the links for films, audio, poster and schedule.AICFF
Tickets are available online only, to all screenings and other events like the November 6 Opening Gala that will benefit both AICFF and Little Pearls.  Join us!
October 5, 2009
Opening Night Gala for Asheville International Children's Film Festival & Little Pearls!  On Friday, November 6, join us for an exceptionally FUN Opening Night Gala that benefits this brand new children's film festival AND Little Pearls!  November 6 Opening Gala
September 29, 2009
Harley's HOME and other Upcoming Dog Pearls
Our Dog Star puppy Harley's unfortunate return to the shelter will lead to a new Dog Pearl.  This sweet dog has now been adopted again, hopefully to his forever home.
We have a new listing of upcoming Dog Pearls atUPCOMING PEARLS
You can help with YOUR Do(g)nation!
August 10, 2009
Little Pearls partners with the first Asheville International Children's Film Festival!  We are the non-profit umbrella organization for this November festival, founded by our Board member Tim Arem – yay, Tim!
Here is our most recent e-newsletter, with LOTS of great links!  E-newsletter June-July 2009 – just now figured out how to put this up…
Short article in August issue of The Laurel of Asheville: Little Pearls: The Lives of Dogs Featured in "Tiny Films" (no online link available)
June 28, 2009
Spirit Dog, our second Dog Pearl, is now out!
Spirit Dog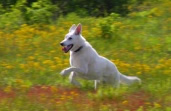 Animal Pearls article is in the current Woman's Best Friend issue of WNC Woman!
Animal Pearls
June 17, 2009
Check out Coming Home, our first new Dog Pearl
at Coming Home. Its sibling Pearl, Spirit Dog, will come out very soon.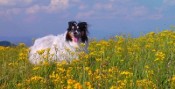 We are taking off in our web 2.0 social networking.
See our new pages:
Little Pearls Fan Page on Facebook

Little Pearls Cause Page on Facebook

Guidestar
(non-profit resource site; search for Little Pearls)
greatlittlepearls channel on YouTube
Vimeo
(higher quality video site than YouTube)
We now have a great donation option: Network for Good Our new non-profit credit card processor isNetwork for Good. Any donations here or through our social networking sites like Change.org, Guidestar and Facebook Cause page go through Network for Good.
For Father's Day, an older Pearl in honor of all Fathers and Children:
The Best and Most Beautiful Things…
May 29, 2009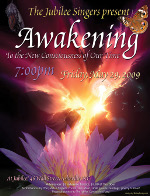 Three Pearls were shown as part of the concert Awakening to the New Consciousness of Our Time at Jubilee! in Asheville.
May 28, 2009
Coming Home, our first Dog Pearl, is out!
Check it out at Coming Home. More links and downloads soon, as we get the online video kinks figured out. Slow motion with lots of movement is tricky in HD.
Media that Matters 2009
The 10th annual Media that Matters retreat was an incredibly rich time of connection and learning. I'm still trying to process it all and catch up with myself. Thanks especially to the wonderful Bill Weaver, founder and nurturer of all things related to Media that Matters!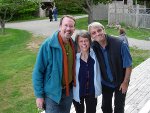 May 7, 2009
YouTube embeds now up for most Little Pearls
Most existing Pearls are now streaming their YouTube versions on their pages, in addition to their downloadable formats. Our YouTube page is greatlittlepearls.
April 1, 2009
Greatlittlepearls Channel on YouTube!
We are finally getting our YouTube channel activated as part of a comprehensive online distribution/fundraising plan for non-profits. Please go to greatlittlepearls or search for greatlittlepearls on YouTube. It will help us a LOT if you view and rate individual Pearls, subscribe to our channel so you know when new Pearls go up, and share with your friends. We still have existing Pearls to upload, and next week we start editing the Dog Pearls. They will be up soon, too!
Many, many new sprouts are coming up in the garden of Little Pearls… more soon!
February 24, 2009
New Life Journal Dec/Jan 2009 – the full article
is now available as it looked in the magazine, with photos: NLJLifesLeaders 
All photos on this page, including individual ones to be posted soon, are by Rebecca D'Angelo. See also New Life Journal
January 8, 2009
Happy New Year!
Though this is a time of great uncertainty, it is potentially a time of great positive change, too. We hope to be part of that change, opening minds by first opening hearts, whether the topic is dogs, nature, interconnectedness or…. See Upcoming Pearls
Though our recent efforts at fundraising have fallen short, as is the case with most non-profits, we have enough funding to at least start creating the Dog Pearls. Stay tuned! And please donate or sponsor if you can.
December 2, 2008
Our first Do(g)nations listings are going up, linked from Do(g)nations – get ideas for YOUR listing!
And speaking of Do(g)nations, I never publically thanked Debra Roberts for coming up with that name while putting okra in her gumbo one night this fall, and Julie Parker for having the idea to list donations for the Dog Pearls, with photos of animals and donor links, on our website. Thanks, you two wonderful Pearls Girls!


And belated public thanks to Stewart Stokes, Julie Parker, Brett Salter, Marlisa Mills, Debra Roberts, Tim Arem and Patty Levesque for helping create our beautiful postcard from two of Pamela Stringer's mountaintop shoot photos, shown here and on the Do(g)nations page.
Novenber 21, 2008
Linda and Little Pearls profiled in Dec/Jan. 2009 issue of New Life Journal
LIFE'S LEADERS: Linda McLean This link is just text at present. Photos will come later. Thanks to Maggie Cramer, Rebecca D'Angelo and New Life Journal staff!
Novenber 16, 2008
Women on Air features Little Pearls and Dog PearlsSusan Lachmann, host of this Sunday night music program on NPR affiliate WETS-FM, included interviews with Debra Roberts and me in a program on dreams. We hope her great program will be available as archives soon.
Tucker becomes a Spirit Dog


Our beautiful friend Tucker,
who will star in the first Dog Pearl, died on November 14.
He stood in for his father Oz,
who was meant to be in that
Pearl but died before we could
do the filming. He WILL take
your breath away…..
Novenber 7, 2008
Blessings Project Foundation supports the Dog Pearls!
We are pleased to have received a grant from theBlessings Project Foundation in Winston-Salem, NC, in support of our upcoming Dog Pearls.

We are so grateful for their support, and for our mutual friend Gloria Karpinski, who connected us.
Check out our new Do(g)nations page
Grants, sponsorships and do(g)nations of any amount can be listed on our Do(g)nations! page.  Some can also be listed on our Sponsors page.
Great Katie Latimore is 108 today!
Check out one of our first Pearls: Great Katie's Pearl  The .mov format seems to work better than .wmv.
The Honeybee Project's new video
This is not directly related to Little Pearls, except through our heart connection to Little Pearls founder Debra Roberts and her current work.  The Honeybee Fly Around Song is at The Honeybee Project.
A new connection is The Positive Observer
Longtime friend Lelia Cort linked us with James Sorrells and his new site: The Positive Observer  James has started posting Little Pearls, with Dr. Willie in rotation as a Video of the Day.  If your usual server doesn't pull it up, try another one.
October 31, 2008
Our new Do(g)nations page is up!
It's still in formation, so check it out: Do(g)nations   From this page, we will link to listings of photos/messages from our do(g)nors, including YOU and your dog(s)!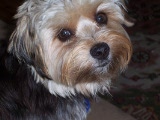 Our new website guide for Dog Pearls is a funny rescued Yorkie
Weazie sez: Come on, come on, please hurry and make your dognation!  Make me and ALL us good dogs STARS!!!!!
We just mailed a beautiful do(g)nations postcard.  It's also on the top and bottom of the Do(g)nations page.  Regular donations are welcome and needed, too, for other Pearls.
October 3, 2008
Dog Pearls update
We have filmed 26 dogs since June, in multiple locations, for at least three new Pearls.  Check out Dog Pearls
and Our Dog Stars.  You'll see lots of cool dog photos and bios, told in first-person… well, first-dog….
YOU can help us finish these Pearls.  DO(G)NATIONSpages will be up soon, so you, your dog, your business, etc. can help us create and share these Pearls with the world!  Your dog's photo could be on our website, too!
Wild and Free: A Screech Owl Named Pinkey in Lumen Eclipse film festival
Pinkey's Pearl will be screened outdoors tomorrow night at the LE:60 1st Annual 1-Minute Film Festival in
Harvard Square, Cambridge, MA
August 11, 2008
Three new Dog Pearls are in the works!
Most of the filming is done (the mountaintop "shoot" photos are on the webpage), but we'll likely need a few more dog stars for filling in close-ups.  Got pups in the Asheville area?
Sharing what I'm learning
The cycles of love and loss continue to be big challenges this year.  We returned from vacation to find that our beautiful cat Toby had just died peacefully.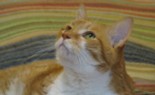 Toby's ease with dying, slowly and on his own terms so soon after other family illnesses and deaths, has taught me a great deal about patience and trust.  All these lessons from our dog AND cat teachers are turning into rich compost for growing the upcoming Dog Pearls.
Shifting priorities/needed funding
Being fully present to loved ones in their "dying season" shifts one's priorities and ability to focus and be productive.  Little Pearls has had to take a back seat to LIFE during the past few months.
There is so much to share, yet we are now behind in raising the funds needed to do this work.  We will be actively seeking foundation grants, sponsors anddonations from friends like you.  Please help in any way you can, including your ideas and connections for new sources of funding.
June 30, 2008
The Little Pearls office will be closed until July 17th
The past six months have been full of losses and major transitions for loved ones in human, canine and feline form.  This intense time has also been full of love, guidance and serendipity.  It is past time for a rest in the arms of nature.  I'll be checking messages periodically….
Our Dog Pearls mountaintop "shoot" was June 19th – photos coming soon!
Pamela Stringer took candid shots of the five dogs and seven people involved in our mountaintop shoot.  This shoot came together quickly – what fun!  Now we need financial support to complete these Pearls.
For the Love of Dogs  Help us make Dog Pearls!!!!!
Wild and Free event photos will be up soon!
Thanks to Paul Howey and Jim Stokoe, we can show you a little of what happened that day.  Wild and Free event May 2008
Wild and Free DVDs are available
We now have DVDs that include Pinkey's Pearl, the 8-minute compilation, slow motion and wide-screen footage.  A few are available from our office and they will soon be available online for $10, plus S&H.
Our newest Board member is Marlisa Mills
Marlisa just joined the Board and is already willing to serve as Secretary.  She is a woman of many talents!
Our first-ever intern is Pamela Stringer
Pamela is working part-time this summer.  She is a mass communications major at UNC-Asheville and we are so glad to have her and her cute puppy Lola.
June 13, 2008
For the Love of Dogs
The painful yet spiritually rich experience of losing Katie, a much-loved family dog, is evolving into two unanticipated Pearls about living, dying and feeling it all fully:
leaving this world with ease, knowing love itself never dies
letting go, moving through loss and learning to love again
In these two Pearls, Linda's dog Mitch, a gorgeous 12 year young collie mix, will be joined by rescued puppy Gracie and other dog friends to show us how animals can teach humans some valuable lessons. For the Love of Dogs
May 4, 2008
Wild and Free: Connecting with Wonder through Wildlife – May 10, 2008
All of the Wild and Free films, including the 8+ minute compilation, are now done and will be premiered at an event on May 10 that also honors Clyde Hollifield.  This event will feature wildlife tales in film, storytelling and song, along with live raptors and other wildlife.
May 3, 2008
Wild and Free wins award in the 14th annual Twin Rivers Media Festival this weekend!
Our Wild and Free: a Screech Owl Named Pinkey compilation won the Western North Carolina Achievement Award 2008 in the 14th annual Twin Rivers Media Festival this weekend in downtown Asheville.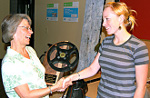 What a great surprise!  You can see Pinkey's story yourself at the May 10 event!
Wild and Free event May 2008
April 23, 2008
We now have our Wild and Free and After the Storm compilations posted on their webpages
Wild and Free main page  After the Storm page  Check them out!
April 14, 2008
An unanticipated new Little Pearl about a beloved dog is in the works
Details will be in a new page soon, linked from Upcoming Pearls.
February 27, 2008
Wild and Free is up on green.tv
Pinkey's 30 second Pearl is just up "live" on green.tv in England and will be in the top spot until they post a newer film.  The entry page is green.tv  Pinkey's page is searchable by: little pearls, wild and free, owl, screech owl, Pinkey. They have listed it for Itunes and mobile – both areas of outreach we have had on our wish list.  The 8+ minute compilation should be up soon, in two parts.
On Pinkey's main page on our website, we also plan to replace three of the companions with the compilation. Stay tuned!
February 6, 2008
Upcoming Pearls
We hope to make several new Pearls this year. The next likely ones are listed on Upcoming Pearls and cover many inspiring – and unusual – subjects. What's next often depends on timing, available funding and serendipity – and maybe on YOU, too!
Wild and Free: a Screech Owl Named Pinkey event coming soon!
A debut party for the community, featuring the one-and-only Clyde Hollifield, Dr. Willie and a few of their buddies, will be happening this spring.  Pinkey's 9-minute compilation DID premiere in the Asheville Film Festival, but this will be its chance to shine, along with the 30-second Pearl and Clyde himself.  As we said in our e-newsletter, Pinkey will not be there – he is too busy being wild and free!
Our ALL-Pearls DVD release party will come later!
This is our first new sampler in five years, including ALL Pearls, compilations, mini-documentaries, and the whole 2003 sampler, with a menu that allows you to see and share exactly what you choose, in any setting, from home to classroom to public events.
Kat Williams' Concert was GREAT, and our screenings of After the Storm and three other Pearls fit right in.  Kat is in the best place, musically and in her heart, that she's ever been.  What a gift for all of us!
Scott Dobbins
In December, we lost our friend Scott Dobbins, who died unexpectedly in December, far too young.  Scott and his business, A New Light Video Productions, were important in the creation of many of the earlier Little Pearls.  We send our best wishes to his wife Lisa and two sons.
In the news in November: Asheville Citizen-Timesand UNC-Asheville's Blue Banner
Wild and Free was profiled by Barbara Blake in theAshevillle Citizen-Times (see the In The News link on this page) and Little Pearls was profiled by Courtney Willis in the UNC-A Blue Banner (we do not have a link, alas!)  Thank you, Barbara and Courtney!
GiFT software from OneWhoServes, Inc.
Late in 2007, we began to use this contact and fundraising software, designed for non-profits right here in Asheville – it is so easy, compared to the things that were a struggle and still didn't work!  Thanks, Gordon Walton and staff!
January 25, 2008
KAT IS BACK!   Kat Williams' Taking It Back concertscreens After the Storm when she returns to Asheville THIS Sunday night at 7 pm at Jubilee!   Kat is a powerhouse vocalist with a huge heart.  Because of her strong presence and voice, she anchors After the Stormand does the voiceovers and vocals.  We're excited to be part of this concert back home with her new band!


Visit 

katwilliams.com, Kat on myspace 
Here is the YouTube version of the After the Stormcompilation (not the best quality, but you can get the feeling): youtube.com/watch?v=g5Kok4JrHro
December 11, 2007
For now, as we're in the midst of our fundraising mailing, just one thing:
We have a new webpage in formation for our SPONSORS – please send your suggestions for possible sponsors!  Sponsors
October 22, 2007
Well, sometimes it takes awhile to get used to doing new things, so this is my first update:
After the Storm to be screened in the Wild and Scenic Environmental Film Festival
The 4 minute compilation has been accepted in the Wild and Scenic Environmental Film Festival, to be held in January in northern California.  Director Kathy Dotson approached us about participating, and we are so grateful!   wildandscenicfilmfestival.org
Wild and Free: A Screech Owl Named Pinkey to be screened in the Asheville Film Festival
This 9 minute compilation (the Pearl and four extra videos in rolling text story) will be screened in the Asheville Film Festival the weekend of November 8-11, Asheville, North Carolina.  Thank you, Sandra Travis and Melissa Porter!  Festival information is at filmfestival   Pinkey's link iswild_and_free_a_screech_owl_named_pinkey
Check out our updated descriptors
The "key messages" are near the top of our Home page and Mission and Vision are on a link from Home.  Though Little Pearls capture the essence of their subjects, it has been surprisingly difficult to capture the essence of Little Pearls!  Thanks to Debbie Williams for pointing out the need, and to Board members and friends who helped.
After the Storm receives Best 2007 award nomination from KIDS FIRST!
This four minute combo was one of four films in competition nationally for the Kids First! Best 2007 Award nomination as Best Indie Short Short Age 12-18.  The awards were given in Los Angeles on Oct. 7, 2007 – we did not win but are thrilled to have been nominated, and thanks again, Ranny Levy!  kidsfirst.org
Pinkey and Clyde in the October issue of The Laurel of Asheville
Thank you Paul Howey, editor and friend, who wrote the article in this gorgeous magazine for the issue when many extra visitors are in western NC for the fall color season. thelaurelofasheville.com
Greenlife Grocery in Asheville, NC raises money for Little Pearls
Thanks to our friend and advocate Trish Howey, Greenlife featured Little Pearls in its bag donation program for September and raised almost $500 for us.  Sally Kehnast and Misty Childs of Greenlife are so nice to work with – THANK YOU!!!  greenlifegrocery.com
July, 2007
(starting with some highlights of the past year):
Wild and Free: A Screech Owl Named Pinkey
Pinkey's Pearl, its four companion videos and Clyde's story and e-mails are a real treat! I think they are worth the long wait to finally get them ready to share. Give yourself time to savor them and see how deeply they engage and touch you. Pinkey's main page
As we have been preparing Pinkey's pages and other website changes, an e-mail arrived from Clyde on July 9:
For the last few nights, Mr. Pinkey has returned (after an absence of 5 months) and has been calling from the darkness…he comes about 11 pm.  I am usually in the bed but Adrienne sometimes goes out and talks to him.  I guess he has gotten over the loss of his sweetie…. seeya, owl dirt
June 2, 2007 – We're up on YouTube
The first three Little Pearls are up on YouTube and others will be added a few at a time. Please check out our "greatlittlepearls" channel on YOUTUBE, watch the Pearls, rate them, subscribe to our "channel" and share with your friends.  It will take many viewings to rise above the massive amount of "stuff" there.  We'll soon be posting specific Pearls on sites relevant to their topics.  Thanks to Sudha Krishna of Vancouver and Allegra Searle-LeBel of Seattle for helping me get beyond my technical limitations to make this happen.
June 2007 – KIDS FIRST! Film Festival – Coalition for Quality Children's Media
Dr. Willie and the After the Storm combination were accepted into the KIDS FIRST! upcoming traveling children's film festival.  Our 2003 sampler (13 minutes) was part of their festival awhile back. Located in Santa Fe, their website is kidsfirst.org. Thanks to Ranny Levy for the great work they do and for enabling Little Pearls to participate again.
May 2007 – Media that Matters
This deeply meaningful "conference," held at Hollyhock on Cortes Island off of Vancouver Island, BC, is more like a circle, comprised of only 40 or so participants from across North America and sometimes beyond. Though the trip from North Carolina is long and exhausting, the experience and the networking are priceless to me and to Little Pearls.  Thanks to Bill Weaver and Stephen Silha especially, and to the many other friends I've gathered over the past four journeys.mediathatmatters.org/MtM/mtmain.html
February 2007 – Corporate Sponsorships
We have developed our first-ever plan for obtaining corporate sponsorships, thanks primarily to the guidance, creativity and efforts of volunteer Vera Struck.struckstudios.com Please contact linda@for details on how this sponsorship plan works and let us know of particular businesses/organizations you think are a good match.
January 2007 – Little Pearls Board of Directors and new Board of Advisors
Patty Levesque became our new Chairperson and Penny Bond our new Secretary, following Julie Parker's move to our new Board of Advisors. Our Board is small, yet it's a great group to work with. Thank you, Patty, Harvey, Brett, Penny and Tim, and Julie, too!  We have begun to form a Board of Advisors, made up of people with particular skills and expertise of great value to Little Pearls. See Acknowledgements
January 2007 – After the Storm combo in the Hazel Wolf Environmental Film Festival 
After our first entry of After the Storm into a film festival, we realized the formatting should be changed for future film festival entries. The new combination was entered into the Hazel Wolf Environmental Film Festival in Seattle (thanks to Grace Stahre at hazelfilm.org) andKIDS FIRST! Film Festival.  Not yet up on our website in this form, it can be seen on YouTube at youtube.com/watch?v=g5Kok4JrHro
December 2006 – Dr. Willie wins two awards in the MY HERO Short Film Festival in Los Angeles
Willie the dog won a Special Hero award and his Little Pearl Dr. Willie won an Honorable Mention in this great online festival.  Thanks to Ann Church of KIDS FIRST! for linking us with MY HERO, and thanks to Wendy Milette and Geeta Malik for working with us.  You can find out more about Dr. Willie's awards on the two links from /drwillie.html. For more about MY HERO, see myhero.com/myhero/go/filmfestival/winners2006.asp
November 2006 – After the Storm – Asheville Film Festival in the shorts competition
Seeing these two Pearls on the big screen as a movie instead of as separate Internet pieces, we realized the need to format them as a combination. ashevillefilmfestival.com/pages/home.htm
Summer 2006 – Brainstorming Session, facilitated by Kathleen Osta of Vital Clarity
With one full-time, mostly volunteer "staff" (me), a small Board of Directors and a small group of volunteers, we benefitted greatly from Kathleen Osta's facilitated – and fun – session for about 25 friends of Little Pearls.  From that session came several action teams, which have had varying levels of activity.  We will revisit this process soon. THANK YOU, Kathleen! vitalclarity.com