Anam Cara: Soul Friend
Background and funding information on the Dog Pearls is at
DOG PEARLS | OUR DOG STARS | DO(G)NATIONS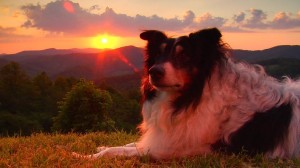 Anam Cara: Soul Friend is a love letter to Mitch, who died in May 2011 at age 15.  Mitch had been central to the Dog Pearls visioning since it all started in 2008.
This was the last of four new Dog Pearls created in 2011, just after a sudden family medical crisis and just in time to make it onto the new DVD.  The circumstances of its creation were unusual and serendipitous.  It is exceedingly moving, even to those who did not know this special dog.
Anam Cara: Soul Friend on YouTube  Please play in HD, though it takes longer to load in ~ MUCH better! Our YouTube channel page is greatlittlepearls
The Story Behind This Pearl:  Mitch was very old for a collie mix.  He had long struggled with severe arthritis, balance problems, incontinence and other health challenges, yet he was still fully present in his life and eager to engage in any ways he could.  We knew his passing was imminent in May 2011 as his pain and difficulties increased.
My husband Jim and I sang this beautiful song Anam Cara on a Sunday morning in May with the Jubilee Singers.  Though Anam Cara has long been a favorite at Jubilee, this was its first performance as a choral piece, arranged and directed by Lynn Rosser.  I sensed that Mitch's transition was coming soon and could hardly sing the second time we performed it.  When we returned home, Mitch was in such bad shape, we knew it was time.  He became a Spirit Dog that afternoon, easily and peacefully.  This music is forever tied to Mitch in my heart.  Such a beautiful pairing!
Delays in the DVD creation allowed us to try to squeeze in this last new Dog Pearl.  The sound recording session in October 2011 was magical.  Lynn Rosser, on vocals, had arranged and conducted the original choral work.  Her husband Chris did both instrumentals and sound recording.  Beth Magill was able to add the tin whistle without ever hearing the song before.  I floated home after we finished, excited to pair the audio with the footage.
The very next morning, my husband landed in the emergency room, followed by surgery and a week in the hospital.  It seemed Anam Cara might not make it onto the DVD, as I could not leave to edit with Shane Peters.  And yet, its energy felt strong.  I asked Shane to try to edit without me, using footage choices we had discussed.  His first version included some footage of me with Mitch ~ too emotional for me.  What you see here is the second version.  It still brings me to tears.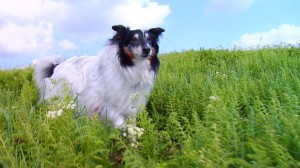 All of the Dog Pearls are meant to encourage adoptions; a closer bond between humans and animals; and a sense of what we have in common with companion animals in so many life experiences. They are about what dogs teach us, in terms of being human, as much as they are about dogs themselves.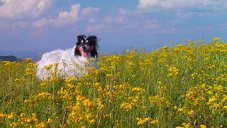 Credits
90-second Dog Pearl — 2011
Featuring: Mitch
Conceived by Linda McLean
Camera: Shane Peters – MediaCinedicate.com
Editing: Shane Peters – MediaCinedicate.com & Linda McLean
Music: Anam Cara
Composed by Howard Hanger, courtesy of Lobster-Books
 Vocals: Lynn Rosser: The Complete Caregiver
Instrumentals & Sound Recording: Chris Rosser
Tin Whistle: Beth Magill & The Magills
Production Assistance: Tim Arem, Donna Ensor, Dana Gatlin, Ruth Kae Hellerman, Pamela Stringer, Mica White, Luke Zeller