Even More Love
Background and funding information on the Dog Pearls is at
DOG PEARLS | OUR DOG STARS | DO(G)NATIONS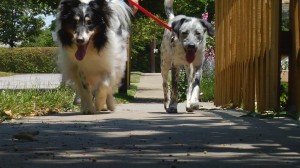 Even More Love is about being open to change, no matter one's age or life circumstance.  This Dog Pearl began to form when a beautiful collie mix named Mitch, who was already an old dog when his best friend Katie died, found new love in the form of a pesky young pup named Gracie.
Mitch and Gracie were filmed together in HD in June and September of 2008.  This Pearl was not completed until October 2011, after Mitch had died at the age of 15, breaking Gracie's heart.  Gracie has now gone through this very same cycle: grieving, adjusting to life without Mitch, and then allowing herself to fall in love with her new best friend, a sweet young dog named Joey.  And the beat goes on….
The message at the end of this 60-second Dog Pearl is a good one for most of us:  "When your heart is broken, let it break OPEN, to even more love."
Even More Love on YouTube  Please play in HD, though it takes longer to load in – it's worth it!  Our YouTube channel page is GreatLittlePearls
All of the Dog Pearls are meant to encourage adoptions; a closer bond between humans and animals; and a sense of what we have in common with companion animals in so many life experiences. They are about what dogs teach us, in terms of being human, as much as they are about dogs themselves.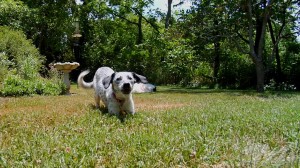 CREDITS
60-second Dog Pearl – 2011
Featuring: Mitch & Gracie
Conceived & written by Linda McLean
Camera: Shane Peters – Media Cinedicate
Editing: Shane Peters & Linda McLean
Voice Over: Daniel Barber
Sound Studio: Sound Temple Studios
Music: Desert Dance
By: Al Petteway & Amy White
Album: Racing Hearts
Artist: Al Petteway & Amy White
Label: Courtesy of Fairewood Studios
AlandAmy.com
Production Assistance: Tim Arem, Donna Ensor, Amy Plankenhorn, Jim Stokoe, Mica White, Luke Zeller