Everything is a Miracle
Debra met Nicholas when he was three years old. He is the youngest of four intensely creative home-schooled boys and is surrounded by a family who love and adore him. Debra, too, was immediately smitten. She had just read Einstein's quote: "There are only two ways to live your life. One is as though nothing is a miracle.  The other is as if everything is."  Nicholas' contagious joy, expressed through singing, dancing and in his day-to-day life, personified Einstein's thought for her. The concept for another Pearl was born and two years later, we secured the funding to make the piece.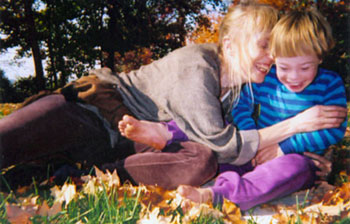 Rick Aguar (camera) and Debra followed Nicholas around one morning, filming his unique book dance. His brother Sam played the piano. On a second morning, we followed Nicholas outside, doing the things he loves to do. His mother Joan was occasionally present, supporting Nicholas and helping us out.
When we reviewed the footage in the pre-editing session, we realized that there were moments between Nicholas and his mother that were so potently loving, so deeply expressive of the kind of love that has allowed Nicholas to bloom so strongly as himself, that we couldn't do the Pearl without including some of these moments too. This wasn't planned – their relationship felt like a special kind of grace that we were privileged to witness. We are extremely grateful to Nicholas and his family for consenting to support the making of this Pearl.
As a footnote, we selected Bach's Italian Concerto in F Major for the soundtrack of this piece because it is one of Nicholas' current favorites. His other is Frank Sinatra's Luck Be a Lady Tonight. The former seemed to fit this piece better. We think Einstein would be delighted.
Update July 2011:  In working through music rights agreements on all older Little Pearls, we made the choice to have our musician friend Daniel Barber re-record the Bach audio instead of continuing to use a commercial recording.  In 2001, Daniel edited the original version; in 2011, he played the music ~ talented guy!
CREDITS
30 second Pearl – 2001
Featuring Nicholas Humphreys & Joan Heller
Conceived by Debra Roberts
Camera: Rick Aguar
2001 Editing: Daniel Barber – New Context Productions
with Debra Roberts
Music: Italian Concerto in F Major
Written by J.S. Bach
2011 Re-Recording of Audio


Piano and Recording: Daniel Barber
Producer/Director: Linda McLean
Editing Remix with new audio: David Bourne