Great Katie: Celebrating A Century of Living and Loving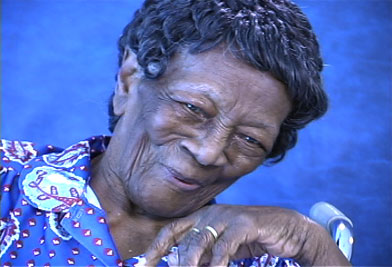 Debra met Katie while filming a documentary called "Mama's Magic". This film featured Katie's granddaughter, the remarkable poet Glenis Redmond. Glenis, her twin daughters Amber and Celeste (who nicknamed her grandmother "Great Katie") and her mother, father and niece were all present and involved in the production.
| | |
| --- | --- |
| At the end of an afternoon of filming, Debra sat with Katie on her couch and they silently gazed and smiled at each other for a long time. Debra said afterwards that she felt like she had fallen into a galaxy of stars, through Katie's eyes. It is a rare thing to be in the presence of someone whose life has spanned over a hundred years, especially the life of an African American woman in the South.When Little Pearls was conceived, Katie was one of the first people asked to participate. Hers is the very first Pearl.  She and her family blessed Little Pearls with their support.Katie turned 109 in November of 2009 and died February 2, 2010. As the matriarch of five generations, most of whom still lived nearby, she was healthy, happy and mostly talked about love, God, and her family. She was a treasure and will be deeply missed.Glenis' poems about her beloved grandmother Katie are just below the credits.  You can learn more about Glenis at Glenis Redmond | |
CREDITS
30 Second Pearl – Original Credits, 2000
Featuring: Katie Latimore
Conceived by Debra Roberts
Camera: Daniel Barber – New Context Productions

Editing: Daniel Barber with Debra Roberts
Production Assistance:  Glenis Redmond
Music: Have I Told You Lately That I Love You
Written by Scott Wiseman
Courtesy of Songs of Universal, Inc (BMI)
(Original audio was by Van Morrison.  We were unable to reach him to renew
the music rights, and Universal granted us permission to re-record.  The new
audio is more intimate, and we think it fits Great Katie's images even better.)
New Audio Credits, August 2011
  Vocals: Kat Williams
Piano: Daniel Barber
Producer/Director: Linda McLean
Sound Studio: Robert George of Sound Temple Studios
Remix with original visuals: David Bourne of Bourne Media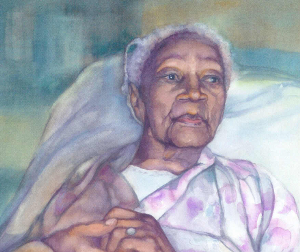 She
for Katie Latimore's Birthday, 101 – by Glenis Redmond
Staring into Katie Latimore's eyes
I go straight into heaven,
rest in a blueness not here on earth.
With her I feel a certain mercy
I have never known.
She who grew hollyhocks, hibiscus, hydrangeas
and drew every stray cat in the county.
She who when not pickin' cotton,
grew vegetables in her yard,
fished in her spare time.
Rachel's daughter,
her mother born a slave,
bore sixteen children.
She in those desperate
dangerous times
held aspirations beyond the third grade
but never made it to that one-room schoolhouse.
Her knowledge was of another understanding,
a candle lit by the Almighty.
When I am wise I sit there and study her blue flame.
She smoked her Winston 100's,
inhaled a little,
letting the ash grow
until it fell like withered dreams beneath her feet.
She drank her Coca-Cola like medicine,
loved her potatoes sweet.
She made me thru my mother
thru and thru 'til
I am what I am
which is why even now,
I have a penchant for all things old;
never been particular about the new.
It is why I gave birth to two incredibly old women.
I called them the Delaney sisters.
They came that way.
It is their spirit not their age.
She, my mother's mother, I am not calling a saint
but is there anybody living who would want to walk in her shoes?
She has earned the glory of these words,
any respite they might bring.
She with her jet black ambition
tied to her hands,
her running feet
running thru cane fields,
cotton fields
always somebody else's
sharecropped land.
She deserves to run,
fight, do battle no more.
Lay it all down by the riverside.
But she is in the nursing home
with a fire, a rage burning bright.
I know because sometimes,
she won't let no white hand touch her.
When I leave there, She whispers,
"Loves everybody, Chile,
no matter how black,
how blue,
how brown,
or how white,
loves everybody."
For in those times
she was running water
clear, clean in that ingrown South
where revolution never happened,
not even now.
She was
IS the point of my inspiration,
showing me the revolution
is in staying alive.
I don't know what happened to her
101 years of living in the south.
I only know
She is closer to God
than anyone I have ever known.
Coming from a shattered past,
imagine heartache after heartache,
outlasting the death of almost everyone,
lasting 101 years of living.
What are we gonna say
to that black woman?
We gonna look around pretend she not there?
What we gonna say to 101 years
of having no monuments erected in her name?
The only thing resurrected daily was the struggle and the fight.
What we gonna say to all those years of living?
If we want to be well,
we sit down and listen
with more than our ears.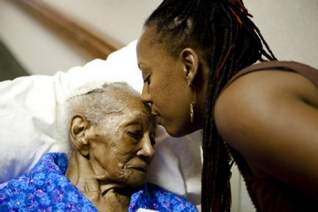 Class
for Katie Latimore – November 7, 1900 to February 2, 2010 – by Glenis Redmond
The bitter: she's gone
The sweet:   she lasted so long
Grandma schooled us
with her old school lessons;
so old they became new again
She walked this world with knowing
People talking 'bout going green,
Grandma came green.
Her ways and actions so tall
you'd think she invented the color.
Her children and her children's children
rising from the soil she tended.
Her life not measured
in man-made increments
But by the hands of God
Blessed to see 109 cycles,
a matriarch who saw wars
and rumors of war
never picked up a weapon.
Killed hate with kindness
Till it didn't come 'round no more.
Just took to her King James,
never lost the spirit
testifying of Jesus
free-styling the gospel
we did not always know the words
but her versions carried a healing balm
Who can be mad at a woman?
Who stayed at the table so long?
To feed us fruit from her faithful hands.
Didn't she talk to you?
Didn't her heart always
know your name?
For someone who did not go to school
She schooled us. With…
hush yo  mouth chile
Listen and wait on the Lord.
Go to the well when thirsty
and take to your knees when
the world has done you wrong,
flower in any season.
Out grow struggle.
The hardy last the blessed do too.
Do not mistake meek for weak.
Go with the countenance of fire.
You were that woman
at the center of our hearths.
Your head covered in a kerchief
You were that woman
with a homemade fishing rod
casting a line figuring out how to
multiply and feed the multitudes
You feed our hearts
with your story we will spend
our lives, telling yours
not just your North Star journey
but how we watched you like a kaleidoscope
bemused amused and on our toes
How you believed in three things:
Jesus, Ricky Steamboat and As The World Turns
Or was it Guiding Light?
You were our earth spinning
Our Watchtower
with blue light
Who never got it twisted
Where your blessing comes from
You, a Canna Lily
a tall flower, among tall flowers
a working bloom.
You sure schooled us.
You out classed the world.
At your feet we throw jewels
Now you are in God's arms catching praise,
at the gleaming gate hearing, "Come on in
Thy Good and Faithful Servant, job well done".