Reaching for the Stars
When the idea for Little Pearls first came to Debra Roberts in a dream, three people immediately came to mind as inspirational material.  Amanda was one of those people.
Despite physical challenges that might overwhelm others, Amanda is a very focused and inspiring young woman who pursues her dreams with a passion. A Pearl soon came into being that was a reflection of qualities that her family, her friend Lauren, and Amanda herself identified as reflecting her true character.
Lauren (also Debra's niece) was invited to help produce this Pearl as a mentoring experience. She was invaluable in production, in selecting the soundtrack, and she did the voiceover. She, Amanda, and Debra all share a deep love of theater, acting, film, and a commitment to watching the Academy Awards together, whenever possible.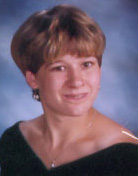 Amanda shares the following with us: "I have been interested in theater all my life. My dream is to win an Academy Award. After pursuing a degree in theater, I hope to see you all at the Oscars!"
Update July 2010, ten years after the making of her Pearl:
Amanda graduated from the University of North Carolina-Greensboro with a BA in Theater and now lives in her own apartment in downtown Asheville, where she is involved in diverse community projects and is an inspiration to all the people around her.
In Spring 2010, Robin Cape and Bruce Kelly worked with Kurt Mann to produce another video of Amanda, this time with Amanda herself doing the vocals and Daniel Barber (who filmed and edited her Pearl ten years ago) on the piano.
This is so moving – enjoy!
Amazing Amanda Final from kurt mann, americangreen.tv on Vimeo
AND, in May 2010, Amanda's mother Patty wrote this beautiful article in WNC Woman: How Little Amanda Grows
You ROCK, Amanda!
---
An earlier news story about Amanda's Pearl:
NBHS Teen Shows Off 'Star' Quality in PSA Commercial
By Jenn Burleson
Staff Writer
Asheville Citizen-Times
Thursday, November 2, 2000
ASHEVILLE, NC:  She smiles and laughs and every once in a while she slips and mentions the boy she secretly adores – just like most teen-agers at North Buncombe High School. But most high school students do not know what it is like to be 17-year-old Amanda Levesque.
As a child, a brain injury left Levesque permanently handicapped.  She is wheelchair bound and sometimes she must repeat sentences two or three times because others have difficulty understanding her slurred words. But Levesque keeps smiling and laughing.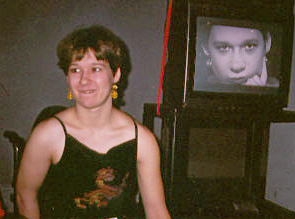 Soon, people across the region will get a glimpse of the passionate teen-ager through a locally-produced public service announcement. "She's got this destiny,"  said Debra Roberts, the local producer and filmmaker responsible for the commercial.  "She just does things you wouldn't expect."
Later this month, a commercial called "Reaching For The Stars" will feature the North Buncombe High School teen-ager who acts in plays, makes the A and B honor roll and regularly cracks jokes.
"I think it's a good thing to achieve the best things you can," Levesque said. The teen-ager, who dreams of being an actress, has never had an easy life.
Acting is her passion, but once she was told she could not be in a play after she accidentally ran across a teacher's foot in her wheelchair.  The teacher thought she did it on purpose.
Despite her physical problems, the student constantly pushes herself to develop ideas for play scripts and essays.  She auditions for plays on a regular basis, although she doesn't always get the part she wants. "I knew she had dreams and I knew she had a strong force behind her, so on one hand, I didn't know what she'd come up with, but I knew it would be incredible," said Amanda's mother Patty Levesque.
Now as Amanda appears on television she hopes she will inspire others to fight for their own dreams, "by just saying 'hey, here I am, if you don't like me, tough,' "she said.  "By saying 'I am who I am and I love myself for who I am.' I think that's the best way to go."
---
CREDITS
30 second Pearl – 2000
Featuring: Amanda Levesque
Conceived by Debra Roberts
Camera: Daniel Barber – New Context Productions
Voiceover: Lauren Ford
Sound Studio: Vince Rutherford – Soundtrax Studio Services
Editing: Daniel Barber with Debra Roberts
Music: The Mummers' Dance 
Written and performed by Loreena McKennitt
From the Quinlan Road CD The Book of Secrets
(P) 1997 Quinlan Road Limited
Published by Quinlan Road Music Limited /
Universal Music Publishing MGB Limited