The Best and Most Beautiful Things…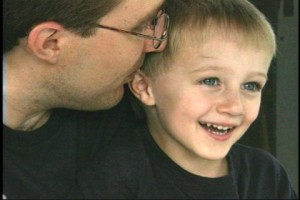 The Best and Most Beautiful Things on YouTube

Shane has been a long time friend of Debra Roberts. They worked together on the first documentary she produced in Asheville, NC, before Little Pearls even came into being. He shared a story years ago that touched her deeply:
"When my dad was about five years old, his parents went away for some time and he ended up staying short periods of time with various relatives. He never had money for nice things, and would often go about in very tattered clothing, as the people he stayed with were not always able to afford his care.
When Dad would walk home from school, he always passed by a Tastee Freeze ice cream parlor owned by James (Jim) Marshall. Dad would always stop to press his face to the window, watching other kids and parents enjoying the ice cream. As Jim would tell me, he always noticed dad looking in, with his tattered clothing and hungry look, but he said dad would never come in.
One day Jim went out and invited him in for some ice cream, in exchange dad swept the floor and helped him carry things out. This went on for some time, and as their relationship grew, Jim came to find out about dad's lack of loving parents. As Jim had no family of his own, he started taking Dad out on fun adventures. Camping, skiing, playing ice hockey……as well as helping him to buy the things he needed for school and such. Jim and Dad each filled empty spaces in one another's life, and were always there for each other. They called each other "Dad" and "Son", and after some time, Jim legally adopted my dad (although by then my father was an adult), I believe just to have it established legally.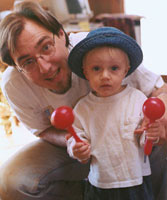 I have always called Jim "Grandpa Jim", and have always felt that he was a true Grandfather. He went to great lengths to guide and assist me as I grew, and I learned a type of love and compassion from him that many men cannot express. I am reminded daily of commitment and responsibility to family that I saw him exude. And of the need for a strong father-son relationship. My father, as well as myself, were very fortunate to have Jim in our lives."
When Shane's son Elias was born, Debra saw this same deep bond between father and son reflected in their relationship. We wanted to create a Pearl that reflected the true nature of their mutual affection, and in a sea of wonderful moments in the editing suite, we knew when we saw Elias impulsively paint Shane's cheek that we had found our Pearl.
We dedicate this Pearl to Grandpa Jimmy.
CREDITS
30 second Pearl – 2002


Featuring Shane and Elias Peters
 Conceived by Debra Roberts
Camera: Scott Dobbins – A New Light Video
Voiceover: Chris Rosser
Sound Studio: Chris Rosser – Hollow Reed Arts
Editing: Shane Peters and Scott Dobbins – A New Light Video
with Linda McLean and Debra Roberts
Quote by Helen Keller
Music: Atrium Song 
Composition & performance
by Jim Beckwith
Common Touch Productions
livemusicforyoga.com
commontouchmusic.com