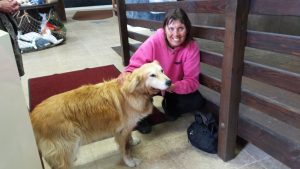 We're still waiting for footage from marine biologist Carrie Newell and zodiac Captain Al of Whale Research Eco Excursions to add to the footage that Portland, Oregon cameraman Ben Nieves and Asheville cameraman Shane Peters have taken of old dog Kida and the whales she's loved her whole, long life.
These are images of Carrie and Kida on a zodiac, from my late July time in Depoe Bay, Oregon.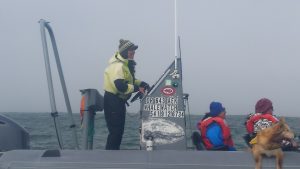 Kida is 15 1/2 and dealing with the removal of the front lower half of her jaw from cancer last spring. She tires more easily now, yet she's still passionate about living and working with Carrie and the California gray whales of Depoe Bay. She's a role model for me!